What Are Whey Protein Supplements?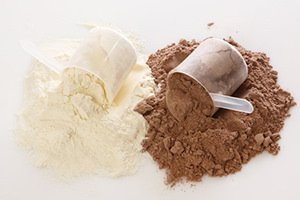 Protein is one of three macro-nutrients, which are protein, fats, and carbohydrates. Their purpose is to provide energy, and simply put, our bodies cannot survive without these macro-nutrients. Protein is a key nutrient, commonly found in meat and nuts, that is essential to building muscle mass. Anyone who hopes to develop a decent amount of muscle mass must digest a solid amount of protein – and that is why whey protein supplements are essential.  If you are looking for the best in whey protein supplements to help you achieve your goals, shop our vast selection of high-quality protein supplements today.
The Benefits of Whey Protein Supplements
Considering that protein is an essential building block of muscle, it is easy to see why protein supplements are the #1 most purchased and used supplement. Here are a few benefits of taking whey protein supplements.
Muscle Recovery and Growth

– The single most important reason for digesting protein is to provide fuel for your muscles. If you have ever experienced an intense workout, you probably noticed that your muscles were excruciatingly sore in the following days. The reason for this is that your muscles were torn and broken down during the workout. When your muscles are sore, an adequate amount of whey protein supplements allows them to rebuild bigger and stronger than before.

Fast Digestion

– The benefits of protein supplements are considered essential as part of a post-workout routine. After working out, if you were to eat a meal, the food would take a significant amount of time to be digested while your muscles are begging for protein. With whey protein supplements, your body is able to effectively digest the protein within 30 minutes – Less than any meal!

Meal Replacement

– If you are an on-the-go type of person, never before has there been a more effective way to ingest your daily amount of protein. Genetidyne's whey protein supplements help you get a healthy dose of protein quickly minus the undesirable stuff that comes from a steady diet of fast food.
Gym Hours
AUBURN
MONDAY – FRIDAY: 5am – 9pm
SATURDAY – SUNDAY: 7am – 7pm
BRUNSWICK
MONDAY – FRIDAY: 5am – 9 pm
SATURDAY – SUNDAY: 7am – 7pm